Sunday, October 30th, 2005
Namely "Yuen" Buffet Steamboat, it's a right place to go if u're looking for cheap, tantalising, and varieties in buffet steamboat!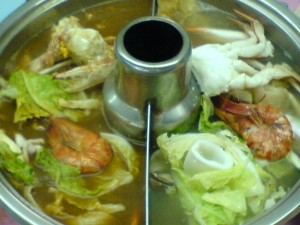 Mix Soup Steamboat
They served tomyam and normal vege soup as the steamboat base. You can asked for a mix (as depict in the picture) or only one. I don't quite like the tomyam soup base probably it's not the "thai style tomyam" which is spicy and sour. This is what i called the "chinese tomyam"! :>
They have a variety of vegetables, chicken meat, squids, fish balls, beef balls, whatever balls, u name it, n …. many many more …. They even have escargo. The most famous dish here is their HONEY CHICKEN WING! To get a bite of it, you have to be really alert, as the moment it's served, sight of ppl rushing to it will be seen! :> It is a must that you have a taste of it when u visit this buffet steamboat restaurant. If you miss it, u'll have to wait for the next round.
On top of that, they provide desserts as well, some local "kuih", fruits and also some ice-cream! You'll have a really complete meal here, No regrets for sure!
They open only for dinner time. I would prefer making reservation if i decide to go on weekends for late dinner. As it's always very pack as early as 5.30pm. Their peak hours which is from 7pm-9pm, you most proably have to queue up outside tb4 getting a seat and mind you, it's a long queue :>!
After the meal, you possibly can drop by Sunway Pyramid to have a movie! or i would rather suggest that you have a movie first b4 you have your dinner. As you'll definitely have a bursty tummy!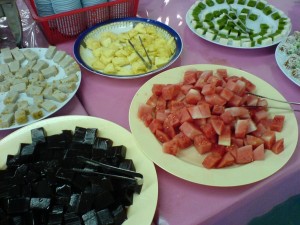 Desserts