If u're looking for Hong Kong style (fine texture) porridge, this is the place you should never miss out ! Situated beside a busy road, Jalan Tun H.S. Lee, the stall sells three types of porridge which are fish, chicken and pork intestine porridge.
All of the three has its own specialty. For instance, the fish used are very fine sliced of raw fish which will be cook once you dip it or pour it in the "boiling" porridge. For the pork intestine porridge, you can ask for additional minced pork balls or deep fry intestine! In addition, the steamed chicken with oyster sauce is also tantalising (ask for more gravy so that u can mix it in the porridge)! The porridge texture u find here is very very fine and has a sweetened taste, i wonder whether they have added in chicken stock !!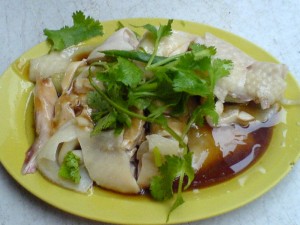 Steam chicken with soya and oyster gravy

Plain Porridge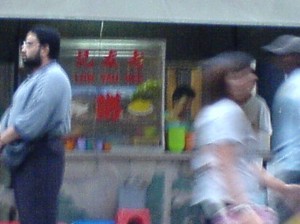 Stall View
There always a big crowd waiting at the stall. You always have to wait for some time to get a seat especially during their "peak hours" – 7pm-8pm … Thus, if possible, get a seat near to the stall as this can get you served earlier ! (they don't really practice 1st come 1st serve policy!)
This is my food blog. If you are interested with technology, you are welcome to visit my Tech Blog at TechieCorner.com. Thank you.