Tuesday, November 29th, 2005
I'm pretty sure that Kim Gary is a household name when mentioned about Hong Kong food. How about U-Village?
Well, U-village is kinda alike with Kim Gary, they served noodles, rice, cheese steam with rice … however, i would prefer U-village rather than Kim Gary as U-Village has more choices and varieties …. in a way, its food are more special, it's something that we can't really find in other food outlets. For instance, their all time chef recommendation, Pumpkin Rice with Pork Chop!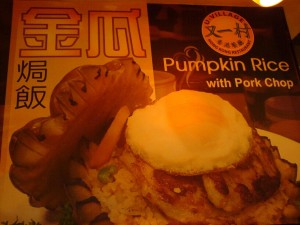 Pumpkin Rice with Pork Chop
I was there during saturday, it was quite crowded and most of the people were eating this Pumpkin rice with Pork Chop! I decided to try something else coz im not really into pumpkin :> I ordered Yau Ma Teh Chicken Rice instead … The first mouthful of it really makes me flying up to the heaven ! Alas, the rice is not warm enough and it's a bit dry! S what i did is i ask for some curry chicken gravy to complement it … and as a whole, it's really superb … u get a bit of salty taste, a bit of curry taste, that make it tantalising! My friend ordered the Macau Curry Chicken rice which also tastes good! They have a good combination of curry spice !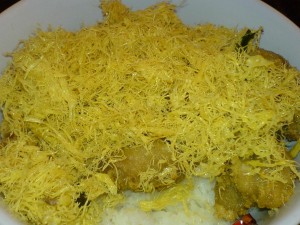 Yau Ma Teh Chicken Rice