Wednesday, June 14th, 2006
Hong Kong Style restaurants are thriving every where around Malaysia recently and it has become a fad to dine in one too. But have you come across one that truly deserves your thumbs up? I've been to many of the outlets before. You name it, the first ever restaurant, Kim Gary, Mongkok Char Chan Teng and many more that I can't remember. Most of the time, the food just taste bland. If not, then its because it just doesn't taste right. Or at least, it doesn't deserve any of my recommendation to others.
However, I've come across U-Village as one Hong Kong Style Restaurant that truly gives you a taste that you will never forget! Perhaps its because (as I was told) the owner of this modest outlet is a Hongkie himself.
For starters, you can try ordering their extraordinary french toast. Usually, the french toast I taste in other "Char Chan Teng's" are either too sweet or too dry because of the peanut butter and honey mixed together. However, you should definately try this french toast. Inside it, they added banana and served with condensed milk as decoration to add to the taste. Not too sweet for me but for the banana lovers out there, its a must!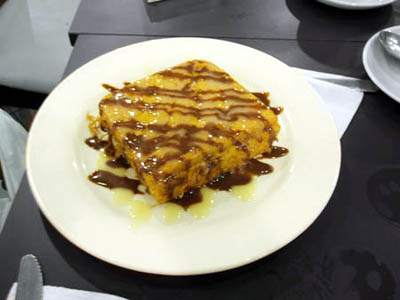 Banana French Toast