Friday, January 13th, 2006
Recently I bought 2 bottle of bird nest from a friend of mine and it was marvelous. The quality of the bird nest are 100% pure and best of all, it's easy to cook with just 3 simple steps.
Step1 : Open a bottle of bird nest
Step 2 : Cook or boiled it
Step 3: Ready to be served.
No hassle of cleaning up the bird nest anymore. The bird nest are already cleaned and is ready to be cook or boiled. So folks, it's a good suggestion to get a bottle of bird nest as a gift for your relative or friends for this coming Chinese New Year!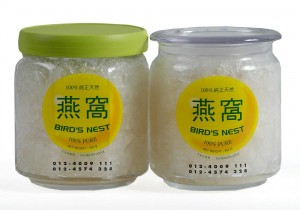 Bird's Nest Bottle Packaging