Don't be mistaken by Noble House Seafood Restaurant as a restaurant that is related to the Oriental Group of Restaurants chain where they too have a restaurant named Noble House located along Jalan Delima. The Noble House Seafood Restaurant establishment grandeur is not as impressive and is in fact much more disappointing that the earlier mentioned Noble House. But what it lacks of, it gains back in the food served.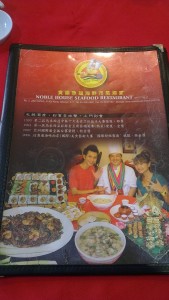 Noble House Seafood Restaurant is famous for its must try Loh Mee Oyster Mee Suah and its Noble House Special Noodles only found in, where else but Klang! This special dish is made out of tapioca flour, and the texture is chewy. The style of cooking is similar to Fried Kueh Teow and if you enjoy this dish, their Special Noodles is a must try. I personally find it slightly oily but what sort of noodles isn't?
Another dish to highlight is their fried popiah. Crunchy and tasty, it's a great appetizer for those that love fried crunchy food and for those Loh Bak lovers.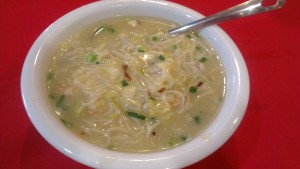 Loh Mee Oyster Mee Suah – Oyster does not overpower the taste of the soup noodles. You can have this without the vinegar and it still tastes great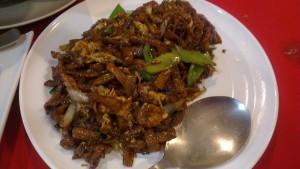 Noble House Special Noodles – Slightly oily for me and taste somewhat similar to Fried Kueh Teow but also more chewy and delectable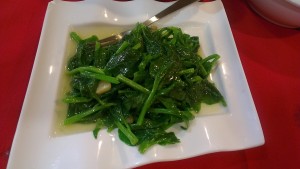 Vegetables – There's nothing special about this plainly stir fried vegetable except this sort of vegetable has a slimy texture. But then again, it has nothing to do with cooking and its just the vegetable properties itself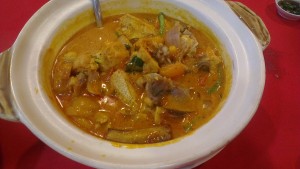 Curry Fish Head – Totally not spicy at all if you are looking for a curry fish head that is not for those non-spicy lovers out there. Fish texture is slightly overcooked and has a little fishy taste to it. Curry is not too overly spiced with curry powder (Thank God!).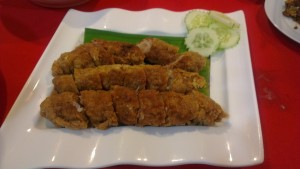 Fried Spring Rolls – Different style of frying from the normal spring rolls that I have eaten. See the uneven texture? Those are the flour. Good to taste if dipped with garlic chili sauce but otherwise not really something to shout about unless you love this appetizer.
Price  : Average (from about RM10++ – 20 ++ per pax)
Ambience : Typical Chinese Restaurant
Food : Average
Recommendation : I would recommend this to anyone looking for something reasonable to eat if you are around Klang Town.
What I Love : The fried spring rolls of course!
Restaurant Name : Noble House Seafood Restaurant
Restaurant Address : No. 5, Jalan Temoh, 41400 Klang
Tel : 603 – 3343 0927
This is my food blog. If you are interested with technology, you are welcome to visit my Tech Blog at TechieCorner.com. Thank you.