If you think for RM6.45 for a piece of chicken and a bowl of rice is worth the price you are paying for, then you are in for a treat. I'm always a green curry lover and am curious to try what does the fusion of Thai food and Western's Fried Chicken make of and when KFC offered their latest Green Curry Chicken on the menu, I rushed over to try this special meal.
So what's so special about KFC's Green Curry Chicken? Nothing special, of course! So why do I say that it's a treat? Other than filling my stomach full of rice and soft drinks, I can find better source of green curry from any Thai restaurants in Kuala Lumpur. The food doesn't come cheap because RM6.45 doesn't even include the taxes and for just a piece of chicken, a bowl of rice and a cup of fizzy drinks, it just doesn't justify the price. After all, how much does a bowl of rice cost?
Take a simple example of eating an economy mix rice – RM3 for a piece of chicken + RM1 for a bowl of rice + RM2 for fizzy drinks comes up to just RM6 nett. And I don't even have to pay my taxes! So why do I write a review about KFC's Green Curry Chicken? If you love KFC and you love green curry, then I'll highly recommend this, otherwise, just opt for your snack plate meal if you want a authentic KFC meal.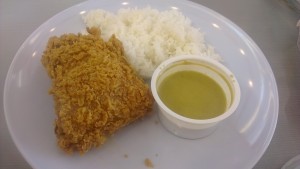 KFC's Green Curry Chicken – Still Finger lickin' good?
This is my food blog. If you are interested with technology, you are welcome to visit my Tech Blog at TechieCorner.com. Thank you.