If you fancy food with a bit of spices try "Restaurant Dong Bei Cai – 东北菜". Just like the restaurant's name, it describes the origin of where the food comes from, which is the North East part of China. Here are some of the dishes that we tried, it's really delicious.
Excuse me, please let me jump queue for introducing the main dish first, cuz it's really really nice. I personally like this dish a lot and it's call "Spicy tofu cook with pork and assorted mushroom" or we call it "水煮肉片" in chinese. This dish serve in a big portion where u can share among 2-3 people. It's a bit hot but at the same time it's really delicious!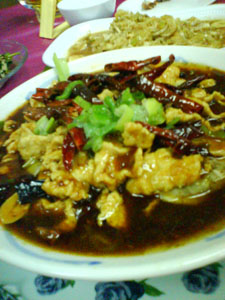 – 水煮肉片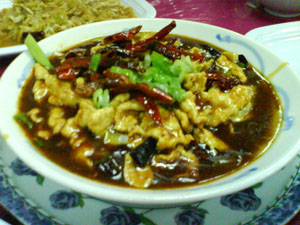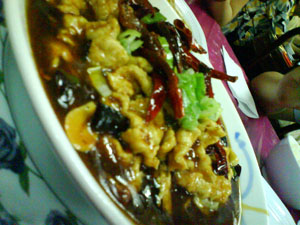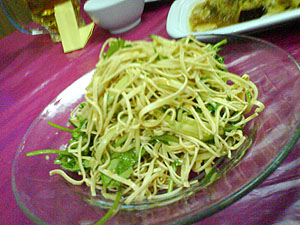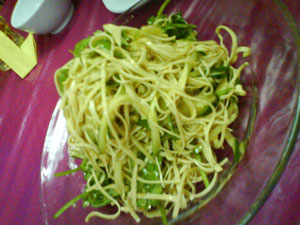 (Tofu appetizer) – 凉拌干豆腐
Ok, now it's time to introduce the appetizer. It's made out of Tofu but it dun really taste and look like Tofu. I forget it's name but It serve cold, and the taste is a bit of sweet and tangy taste. It's very unique and this is the first time i tried it.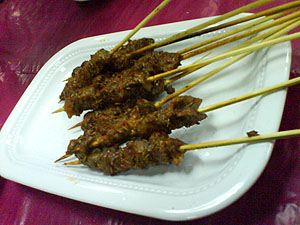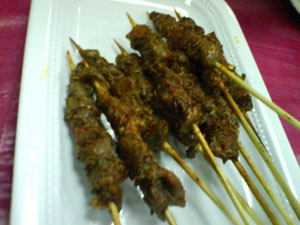 (Spicy satay mutton) – 羊肉串
This is the most value for money dish. Each stick of this satay is only 60 cents. It's far more cheaper compare to many hawkers around the area. This satay mutton marinated with special spices (i believe the spices is from China too 🙂 ) and it's really nice and yummy!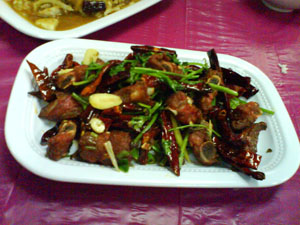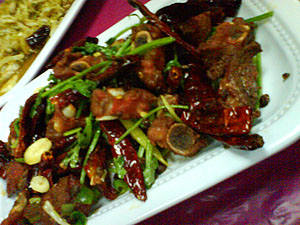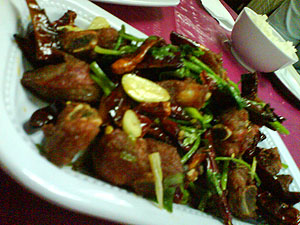 Rosted Pork Ribs – 红烧排骨
This is the well known Roasted Pork Ribs. The pork ribs also marinated with special spices and the taste is really different from what normally eat out there.
Lastly, here's one of the vegetable dishes, i'm not really sure what it's name in english. So i call it – sour cabbage – 酸菜粉. It's another nice dishes. The taste is a bit of salty and sour taste. I think it falls under the appetizer category but we only try this in the middle of the meal. Since this is the 1st time i try this restaurant, so who cares, as long as can fill my stomach and it's with good taste, then it's a good dishes!
Here's the address for this restaurant:-
Restaurant Dong Bei Cai
280, Changkat Thambi Dollah Off Jalan Pudu, 55100 Kuala Lumpur.
Tel/Fax: 603-2148 7694
This restaurant is just near by Time Square. If you are coming from Federal highway and stop at the pudu jail traffic light, you will see Pudu Jail at your right and Time Square at your top right. Take the right turn at the traffic light and within 50m you will see a junction to turn into Time Square (at your left), skip tat junction. Go 50m more and u'll see another junction before a bus stop. turn in (at your left) and u'll find the restaurant at your left hand side. By the way, you will see a Teo Chew Restaurant when u turn into the junction.
p/s: the price is a little bit expensive. but i can say it's worth for a try as you can't taste all this food from elsewhere in KL from what i know.
This is my food blog. If you are interested with technology, you are welcome to visit my Tech Blog at TechieCorner.com. Thank you.