Earlier this week, I went to a Japanese buffet restaurant located at One Utama, New Wing where you get to indulge in all sorts of Japanese cuisine. Food here are offered at a reasonable price. There lots of varieties of food offered from starters right up to appetizers.
They offer the basic tempura range, tepanyaki to chicken marinated in teriyaki sauces. They also offer lots and lots of salmon fish, oyster and soft shell crab. The soup are from the usual miso soup, beef soup to shark's fin soup! However, there is only a limited range of sushi to select from if you are a sushi fan. If you are going for the appetizers, you can choose from a wide, and I mean wide, range of ice-cream flavours. Fruits there are also fresh. The price is definately worth paying for because… there are lots of crabs, shrimps and oysters!
Do go for the chili crabs, if you are a fan of seafood. Its delicious! One thing though, the grill chicken wing that they offer, is uncooked!
Overall, food is so-so only mainly because its cold. But then again, aren't Japanese food mostly cold?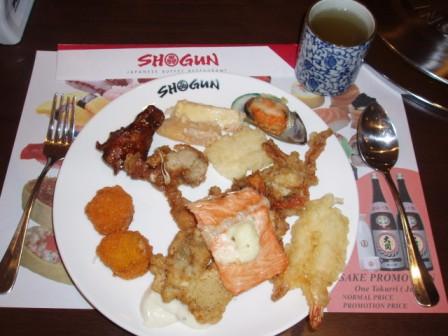 Assorted array of dishes served there

Some range of sushi, handroll and seafood salad

The uncook chicken
IceQueen's Rating:-
Environment: 8 /10
Food Quality: 5 / 10
Price Affordability: 6 / 10
Overall: 5 / 10
* Location: Level 2 New Wing, One Utama
* Price Range: Drinks are free flow so buffet cost about RM49.90++
* Restaurant: Shogun
This is my food blog. If you are interested with technology, you are welcome to visit my Tech Blog at TechieCorner.com. Thank you.