New Paris … I guess it's already a household name for the KL-rian! Located in SS2 and start operating at 5.30pm daily, this restaurant is always filled with large crowds. It's well known for it's extremely fast service!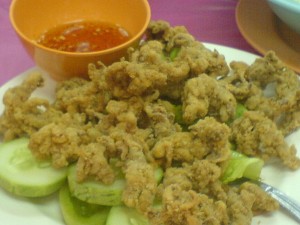 Deep Fried Squid
If you ordered two to three dishes, usually it'll be served in not more than 10 minutes … im not very sure how they manage that, but im 100% sure that they're well-known for this service!! They have quite a variety of food, among the best one is deep fry squid (my all time favourite), watermelon chicken, curry steam fish, marmire pork chop … etc

Fried Kangkung
This is my food blog. If you are interested with technology, you are welcome to visit my Tech Blog at TechieCorner.com. Thank you.