Pork Satay … Hainanese style … ??!!! This is what i found during my Malacca trip. For those who have great passion in pork liver and pork intestine (satay style), this is the stall that you can't miss ! Thy're famous for that. The specialty of this satay stall is its peanut sauce and mix with some pineapple and in turn create a sour n spicy taste! This is a great combination that you provide you a unique flavour.
At this stall, you dont have to order how many stick you want as they will keep on "refilling"!! What you have to do is just get into shop and find a place to sit and wait to be served!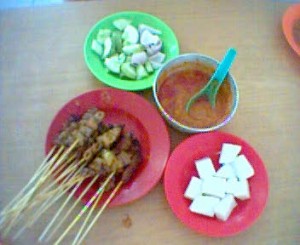 This is my food blog. If you are interested with technology, you are welcome to visit my Tech Blog at TechieCorner.com. Thank you.