Sunday, June 11th, 2006
TGI Friday named after almost everyone's favourite day, this is the place to be if you want to celebrate the beginning of a great weekend! I believe most people have been to this place before but nevertheless, I want to introduce some of the great desserts and drinks that go along side with the main course. For those that have yet tried this western cuisine, this is a must option if you want to experience the friendliness of the staffs there and an atmosphere of relaxation.
Known for a great place to celebrate birthdays (because they come along with a session where the staffs there sing for you a birthday song), it is also the place to be if you want to just hang out with your friends. The background is pumped up with the latest beats from the top 20s.
Some of the drinks that is a must try would be the summer cyclist. Aixture of fresh strawberries and oranges blended together with ice, the name says it all. Refreshingly sweet, the drink balances between the sournessand the taste of both the fruits. This interesting blend is currently priced at RM7.90 per glass.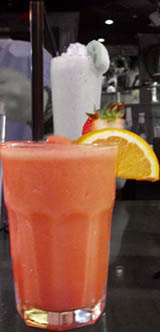 Summer Cyclist
Continue reading TGI Friday (Thank God Its Friday!) »