Tuesday, December 6th, 2005
I'm sure you guys are very familliar with this the name "Kei Tak Shek" a.k.a KTZ !!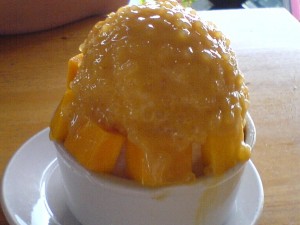 Mango Lolo
It's one of the dessert shop that served the best "Lo Lo" – it is an ice mountain that is splashed with fruit flavour syrups and topping with fruit … What i like most from here are "Mango Lolo" and the "Honey Dew Lolo" !
Though the price is not cheap however, the chilling feel and the satisfaction of eating certainly outweigh the price! The mango and honey dew is forever that sweet! Just wondering how are they able to maintain the sweet sweet taste!
Other than this, they do serve "tong sui" like red bean soup, blend peanut …. n so on … as well as some deep fry snacks …