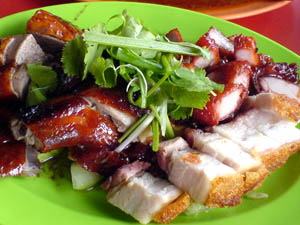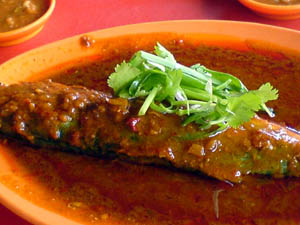 I suppose most of the serdang people will know where this shop located. I sells roasted pork, chicken, asam fish and some herbal soup.
I was brought there by one of my colleagues last year. And just paid my third visit last week. It's worth writing a review about it as I really like the asam "kembung" fish. It's fresh and the spice used makes it more tantalising !!! The "siu yok" is another recommendation.
A lot of UPM students visit this place. It pack with people during lunch hour and it finishes very fast. I would suggest that you get there before 1pm to secure the "siu yok"…haha …
The price are very reasonable and can say to be cheap as well.
How to get there:
From the turf club direction getting to the serdang road, follow the road until you see south city plaza on your left. Take the right turning at the traffic lights and go straight again. You'll pass by rows of shophouses and 1 or 2 more traffic lights. It's on your right hand side. On your left it's a factory.
Anyone could give better direction as i'm not really familiar with serdang area. LOL
This is my food blog. If you are interested with technology, you are welcome to visit my Tech Blog at TechieCorner.com. Thank you.