Hong Kong Style restaurants are thriving every where around Malaysia recently and it has become a fad to dine in one too. But have you come across one that truly deserves your thumbs up? I've been to many of the outlets before. You name it, the first ever restaurant, Kim Gary, Mongkok Char Chan Teng and many more that I can't remember. Most of the time, the food just taste bland. If not, then its because it just doesn't taste right. Or at least, it doesn't deserve any of my recommendation to others.
However, I've come across U-Village as one Hong Kong Style Restaurant that truly gives you a taste that you will never forget! Perhaps its because (as I was told) the owner of this modest outlet is a Hongkie himself.
For starters, you can try ordering their extraordinary french toast. Usually, the french toast I taste in other "Char Chan Teng's" are either too sweet or too dry because of the peanut butter and honey mixed together. However, you should definately try this french toast. Inside it, they added banana and served with condensed milk as decoration to add to the taste. Not too sweet for me but for the banana lovers out there, its a must!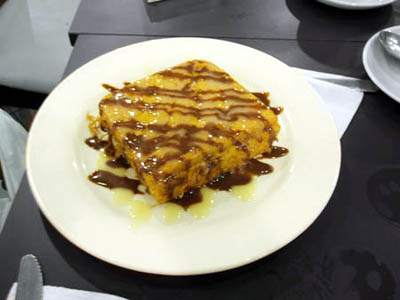 Banana French Toast
Also, don't forget to try their special Hong Kong Style Coffee. You can opt for the normal coffee or the ones that has Nata De Coco inside. Both has its own special taste as well.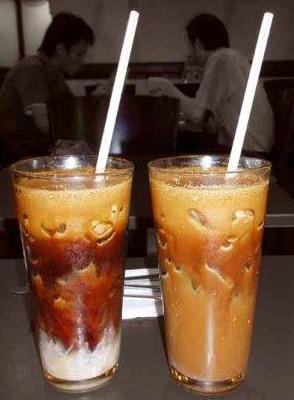 Hong Kong Style Coffe (before and after stir)
The one with NDC (Nata De Coco) gives you a little taste of the NDC and coffee blended together.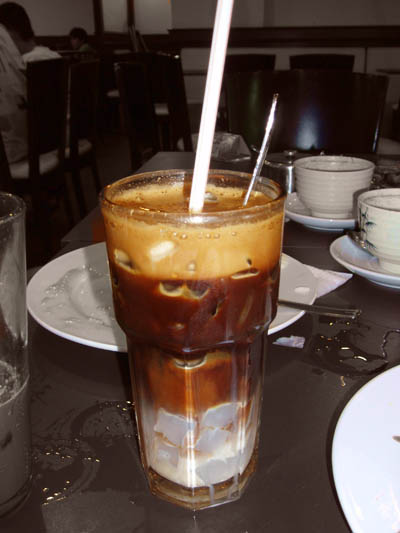 Special Hong Kong Style Coffee (with Nata De Coco)
For main course, you can always try the baked rice but I prefer the sets that come together at the price of RM10.90 which includes a rice of your choice, borsh soup and ribena. However, you can always opt to change the ribena to the Hong Kong Style Coffee for no additional charges! The Ribena served there seems very sweet for one's taste, though.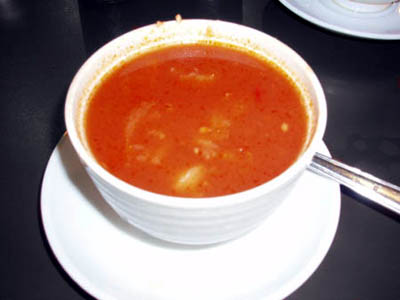 Borsh Soup (includes cabbage, carrots, capsicum, tomatoes and onions)
The Borsh Soup is usually something like in the western restaurants where they serve the "soup of the day". This Borsh Soup is something of sourish and salty due to the tomatoes.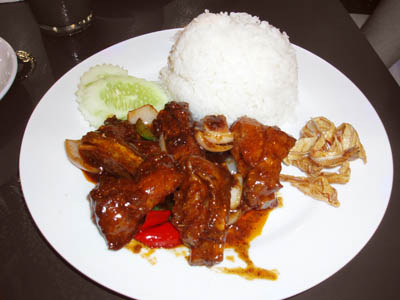 Rice served with Stew Pork Ribs
I love the fried anchovies. Its wonderfully crunchy (unlike the ones you eat at nasi leman where its usually soft). The pork ribs are stewed with U-Village's own special sauce which is includes capsicum and red chili. Its a little spicy too because of the black pepper.
If you like something more plain, then you can also choose the Beancurd with Prawns. The beancurd served has full of the taste of the peas and carrots cooked together with the prawns. Then prawns are also medium sized and fresh unlike in some restaurants where they serve you the overdued prawns. The prawns are also cooked just nicely giving the fresh crunch when you bite it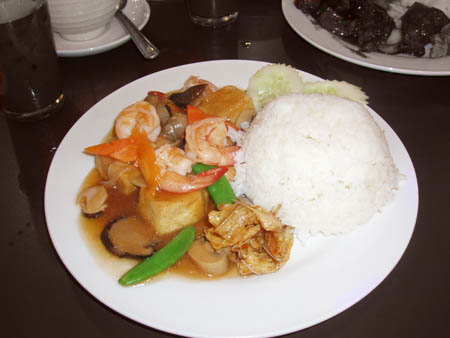 Rice served with Beancurd and Prawns
This place is located at Sg Wang Plaza just opposite of Low Yat facing the streets. Do be careful though. It gets a little crowded during the weekends on lunch and dinner times. Absolutely my thumbs up!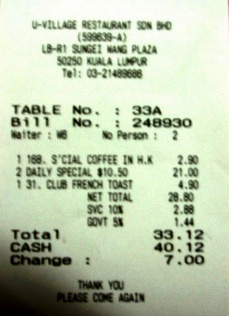 Cost of above said meal
Address:

View Larger Map
This is my food blog. If you are interested with technology, you are welcome to visit my Tech Blog at TechieCorner.com. Thank you.