TGI Friday named after almost everyone's favourite day, this is the place to be if you want to celebrate the beginning of a great weekend! I believe most people have been to this place before but nevertheless, I want to introduce some of the great desserts and drinks that go along side with the main course. For those that have yet tried this western cuisine, this is a must option if you want to experience the friendliness of the staffs there and an atmosphere of relaxation.
Known for a great place to celebrate birthdays (because they come along with a session where the staffs there sing for you a birthday song), it is also the place to be if you want to just hang out with your friends. The background is pumped up with the latest beats from the top 20s.
Some of the drinks that is a must try would be the summer cyclist. Aixture of fresh strawberries and oranges blended together with ice, the name says it all. Refreshingly sweet, the drink balances between the sournessand the taste of both the fruits. This interesting blend is currently priced at RM7.90 per glass.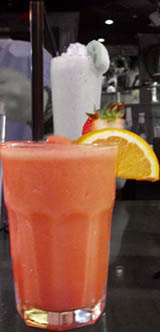 Summer Cyclist

If you fancy more ice blended drinks, why not try the ultimate strawberry daiquili. For strawberry lovers, this is the ultimate. The tip of the glass, decorated with crystal sugar, assures those who are skeptic that this drink would not enhance the sourish taste that strawberries have. This drink is currently priced at RM12.00 per glass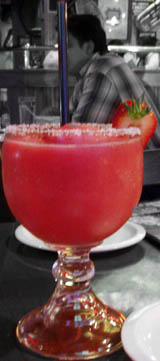 Ultimate Strawberry Daquili
Make sure you also try the mushroom soup. The soup is packed with loads of mushroom and for the mushroom lovers like myself, I can assure you that the price that goes along with the cup of soup is worthwhile. Where most restaurants either blend the mushrooms together, TGIF makes sures that every spoonful of sip that you take, you can chew the mushrooms inside it. This cup of soup is currently priced at RM7.90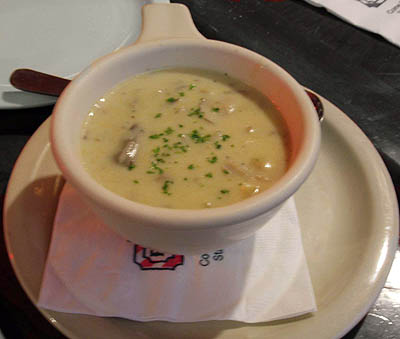 Mushroom Soup
For starters, pick the buffalo wings if you want to really know if buffalos do have wings. Served with celery and mayonnaise (with bits and pieces of creamy cheese mixed together), this meal is great way to prepare your stomach for the main course. Marinade with their own special house sauce, the buffalo wings are what layman terms call bbq chicken. Nevertheless, TGIF's made this seemingly normal dish extraordinarily special.
This dish comes in 2 servings, 6 pieces priced at RM10.90 and 12 pieces priced at RM16.90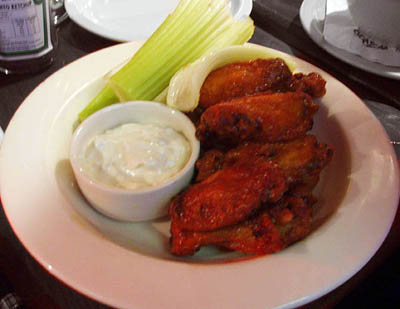 Buffolo's Wing
If you fancy some poultry for your main course, try the Jack Daniel's special. The dish below is served with cooked brocolli, mashed potatoes, grilled pine, grilled chicken breast and Jack's own special sauce which tastes sweet.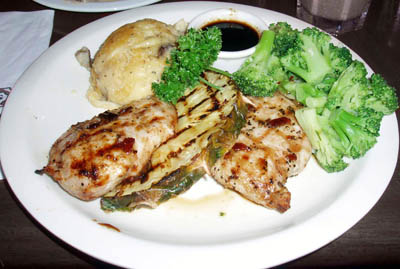 Jack Daniel's Special
If you prefer some seafood with your poultry, you can also try another Jack Daniel set which includes fried prawns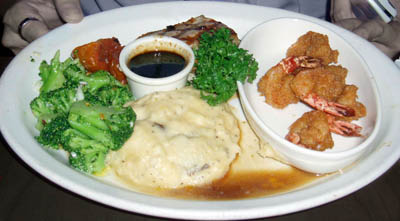 Jack Daniel's Special with Prawn
For dessert, I recommend the mudcake. Topped with chocolate and almond, its definately something wonderful for chocolate lover. The texture of the cake seems more like frozen chocolate ice-cream and cake mixed together. I wonder if that's how it tastes like since its the first time I've tried the mudcake. One thing though, this piece of dessert is fit for 3 people to enjoy! Definately worth's one price.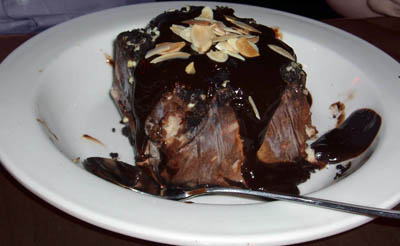 Mudcake

Not enough of chocolate, then try their chocolate moist cake. Words can't describe the taste but I think its a wonderful dessert too.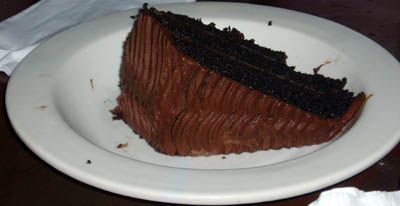 Chocolate Moist Cake
One more dessert that one should try if you drop by TGIF would be the brownies. Topped with ice cream, they have made this dessert seem like you are in heaven. Not too sweet and yet chocolately with the coldness of the vanilla ice crea, its not wonder we all Thank God its Friday!
Like to visit their international site? Then log on here for a glimpse of what they offer at other countries.
This is my food blog. If you are interested with technology, you are welcome to visit my Tech Blog at TechieCorner.com. Thank you.