Tuesday, February 14th, 2006
First time trying the Korean Hotplate Steamboat and it was really superb!! Im not sure whether they have branch in KL but i've heard b4 that they have in S'pore.
What really amazed me is the spice they used to marinate the chickens, beef, lamb as well and not to forget their squid. Wide range of food no doubt … the picture taken were just part of the stuff … the remaining is ice kacang (self-service), cendol, ice creams, fried korean snacks … Besides, the sauces they made compliments the bbq meat nicely!!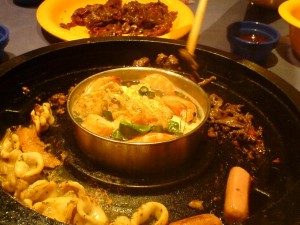 Hotplate Steamboat